Deputy Secretary-General Fu Bo Attended the UK UniversitiesVice Chancellors Meeting Online
Publish Date: 2022-06-30 | Visits: 1900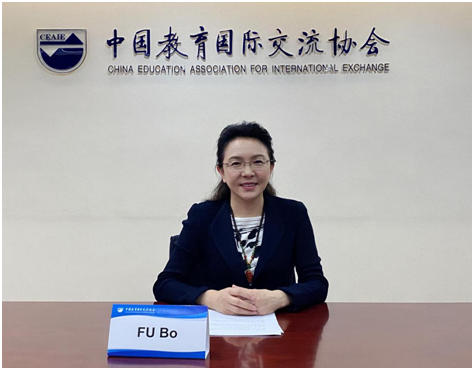 On June 21, Ms. Fu Bo, Deputy Secretary-General of China Education Association for International Exchange, was invited to attend the onlineUK Universities Vice Chancellors Meeting and delivered a speech. The meeting was organized by Universities UK International (UUKi) with participating ViceChancellors in charge of international cooperation from about 50 UK universities.
Ms. Fu Bo briefed CEAIE's missionand work priorities. By showcasing the achievements of weaving aninternational education exchange and cooperation network, establishing two  international education exchange platforms, and building three pillars, CEAIE reflects its firm determination toadvance the cause of international educationexchanges and cooperation between China and the world.
Ms. Fu Bo also expressed expectation upon the framework of the UK-China Higher Education Consortium. Universities from both sidescan carry out in-depth pragmatic cooperation such as student and staff mobility, capacity building, and holding forums/webinars together to accelerate the incubation of discipline-based China-UK higher education exchanges and cooperation achievements. She also joined the Q&A session for discussion with UK partners.