"China-CEECs Educators Leadership Program 2019"Opening Ceremony held in Beijing
Publish Date: 2019-10-18 | Visits: 5328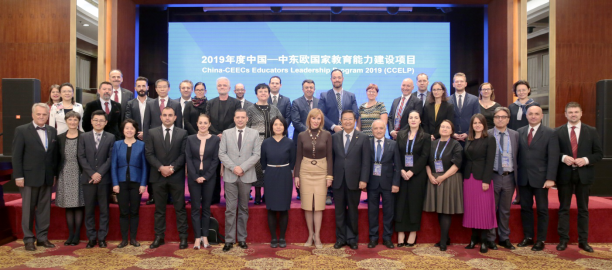 On October 15, 2019, the opening ceremony of the "China-CEECs Educators Leadership Program", implemented by China Education Association for International Exchange (CEAIE) , officially started in Beijing.
Dr. Liu Limin, President of CEAIE, Ms. Zhang Jin, Deputy Director General of the Department of International Cooperation and Exchanges of the Ministry of Education delivered welcoming remarks at the opening ceremony. 25 program participants from 15 CEE countries and some representatives from diplomatic corps attended the opening ceremony.
In the following ten days, the delegation will participate in symposiums in Beijing, visit the Ministry of Education, China Scholarship Council(CSC), Peking University, and attend the China Annual Conference for International Education & Expo. After that, they will go to Jinan for an in-depth visit.
The "China-CEECs Educators Leadership Program", based on the principle of the Dubrovnik Guidelines for Cooperation between China and CEE countries, enables the delegation to know more about China's education reform and practices, helps the two sides improve their education capacity, and promote in-depth exchanges and cooperation between the two sides.
(Department of International Cooperation)