PRESS CONFERENCE OF THE 19TH CHINA ANNUAL CONFERENCE FOR INTERNATIONAL EDUCATION AND EXPO
Publish Date: 2018-09-30 | Visits: 3725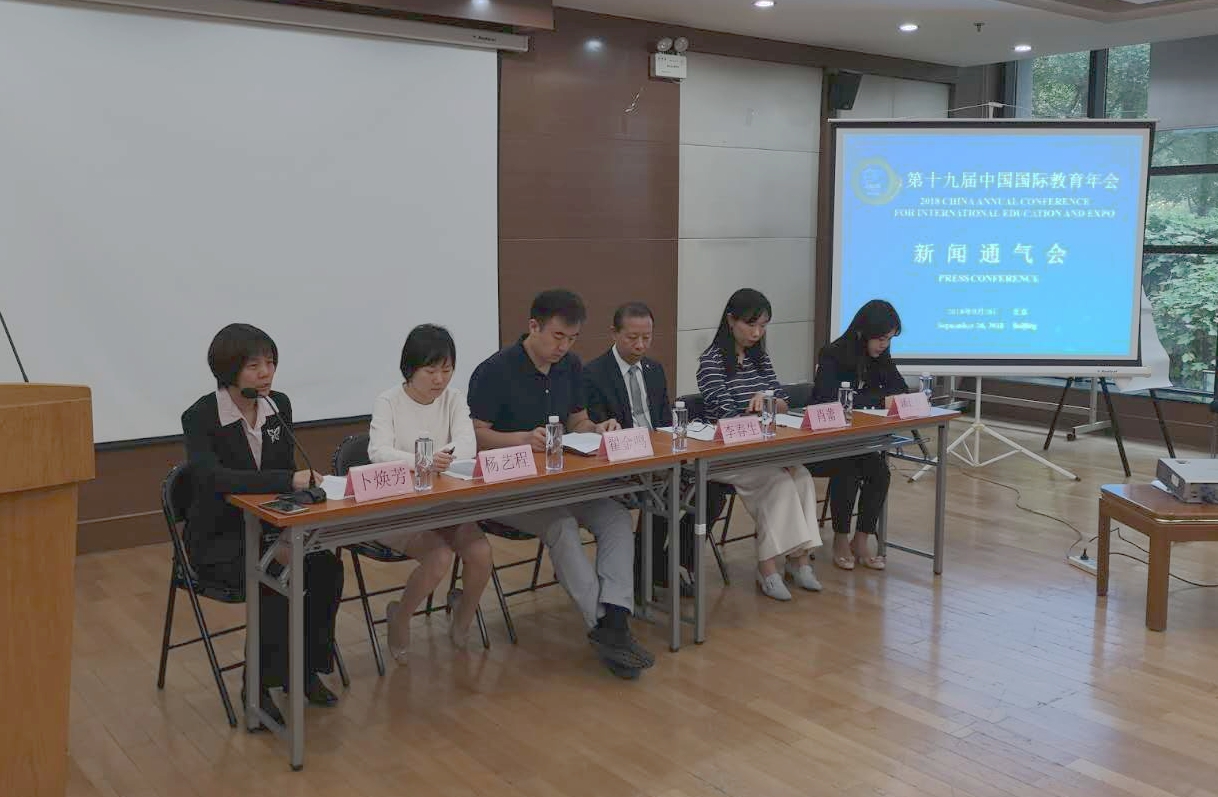 On September 26, 2018, press conference of the 19th China Annual Conference for International Education and Expo (CACIE) was held in Yifu Conference Center, Beijing. Mr. LI Chunsheng, Executive Member of the Council of China Education Association for International Exchange (CEAIE) briefed the media on the overview of the 19th CACIE.
CACIE is now in China the most significant platform for international education exchange and the largest annual gathering of educators at home and abroad.
With approval of the State Council, the 19th CACIE will be held from October 18 to 21 this year in Beijing under the theme Education Modernization-Practice and Exploration.
At the Plenary Session on October 19, Mr. CHEN Baosheng, China's Minister of Education, Ms. Marina A. Borovskaya, Deputy Minister of Science and Higher Education of the Russian Federation and Mr. John Halligan T.D., Minister of State for Training, Skills, Innovation, Research and Development of Ireland will give opening remarks. Chinese Astronaut Major General JING Haipeng will deliver a keynote Speech. Panelists will include Dr. DONG Qi, President of Beijing Normal University, Dr. Larisa Efremova, Vice-Rector of Russia's RUDN University, Dr. YU Lizhong, Chancellor of NYU Shanghai, Mme. Carma Elliot, Director China of British Council and Counsellor for Culture and Education of British Embassy Beijing, Dr. Esther D. Brimmer, Executive Director and CEO of NAFSA, and Mme. Denise Amyot, President and CEO of Colleges and Institutes Canada.
Besides, about 30 parallel sessions will be held during the 19th CACIE as well. At the press conference, Mr. ZHAI Jinming, Director of Department of Education Service and Accreditation of CEAIE, Ms. XIAO Lei, Director of Study in China Office of CEAIE, and representatives from CEAIE's Department of Vocational Education & Training and Department of Academic Exchange &Research made briefings respectively on sessions in the fields of China-Foreign Joint-Run Programs, Study in China, Vocational Education, and Education Internationalization and Student Mobility. Leaders, educators and business elites from all over the world will be invited to share their experiences and perspectives, explore the way to education modernization, and map the blueprint of the future of global education.