The Month of Central and Eastern European Countries - Highlights of China-Serbia Higher Education Cooperation
Publish Date: 2022-06-16 | Visits: 2932

On May 19th , China-Serbia Higher Education Cooperation Seminar, an event of the Month of Central and Eastern European Countries (CEEC), was co-organized by Xi'an Jiaotong University and University of Belgrade, the Republic of Serbia. This is the first event of the Academic Network for Engineering of China - CEEC Higher Education Institutions Consortium (CCHEIC), with over 13,000 audience watching online.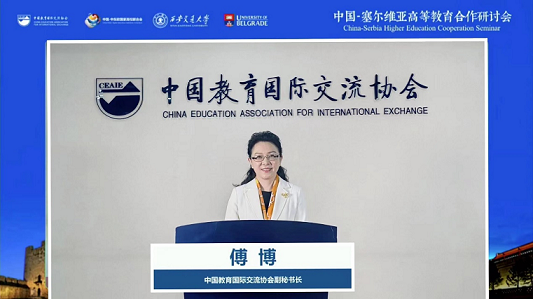 In her remarks, Madam Fu Bo, Deputy Secretary-General of China Education Association for International Exchange (CEAIE) emphasized the role played by higher education cooperation between China and Serbia to support and stimulate the in-depth cooperation in various fields. This has become a major channel for promoting connectivity between the two sides.  More Chinese and CEEC universities are expected to join the Academic Network for Engineering of CCHEIC in the future to witness more effective bilateral interaction and promote pragmatic deliveries of research achievements.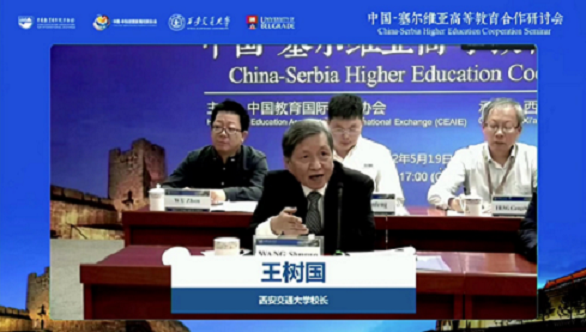 Prof. Wang Shuguo, President of Xi'an Jiaotong University pointed out that the traditional friendship between China and Serbia is profound with the universities of the two countries playing an important role in enlightening the young generation. Xi'an Jiaotong University is actively exploring a new mode of university management in the 21st century, and will share resource platforms with Serbian partners to tackle global challenges and contribute to the prosperity of human civilizations for young generation.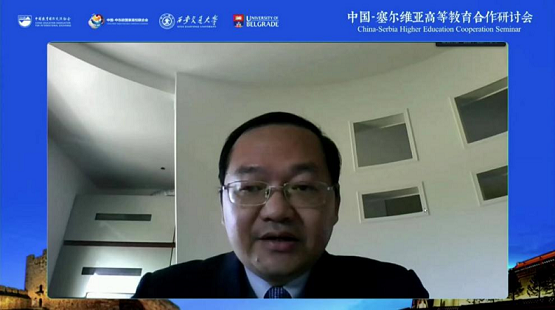 Mr. Chang Bo, Education Officer at the Chinese Embassy in Serbia delivered a report on "Cooperation in Higher Education between China and Serbia".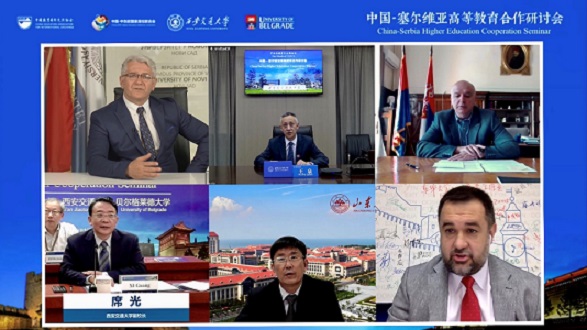 The seminar covered three topics, including Talents Cultivation Cooperation, Engineering Discipline Development & Industry-University-Research Collaboration, and the New Approach to Promote China-Serbia Educational and Cultural Exchange. Prof. Xi Guang, Vice President of Xi'an Jiaotong University, Prof. Wang Quan, Vice President of Xidian University, Prof. Han Shenghao, Vice President of Shandong University, Dejan Medic, Rector of University of Novi Sad, Rayko Ristic, Vice Rector of University of Belgrade and Bojan Lalic, Director of Serbia of Belt and Road Research Institute delivered their speeches and joined the discussion.
As side events, the video on China-Serbia educational cooperation accomplishments was released, and a cooperation agreement was signed by Xi'an Jiaotong University and University of Belgrade.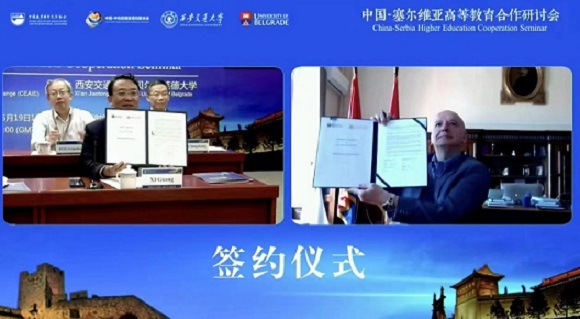 Launched in the year of 2021, to focus on the fruitful outcomes yielded from China and CEEC on educational cooperation, "The Month of CEEC" announces the progress and achievements made by Chinese universities and their partners through pictures, videos and newsletters. It seeks to promote mutual understanding and facilitate result-oriented cooperation. So far, videos on education cooperation between China and Romania, Hungary, Greece, Poland, the Czech Republic and other countries have been released.


(By Department of International Cooperation)