2022 China Celebration of the International Day of Education
Publish Date: 2022-03-31 | Visits: 3655
BEIJING, CHINA - 30 March 2022: Under the mandate of the International Day of Education (IDE) proclaimed by the UN General Assembly in 2018, China Education Association for International Exchange (CEAIE) hosted the 2022 China Celebration of the International Day of Education in Beijing on March 30, 2022. The celebration seeks to establish a platform for dialogue to identify key issues and lessons learned in the course of promoting girls' and women's education. It invited a variety of representatives from international organizations, embassies to China, Chinese provincial education departments and social organizations to share experiences in responding to this major educational topic and to enact long-term plans that would tackle the negative impacts of the COVID-19 pandemic on society and implement effective measures to create gender-balanced education for 2030 sustainable development goals.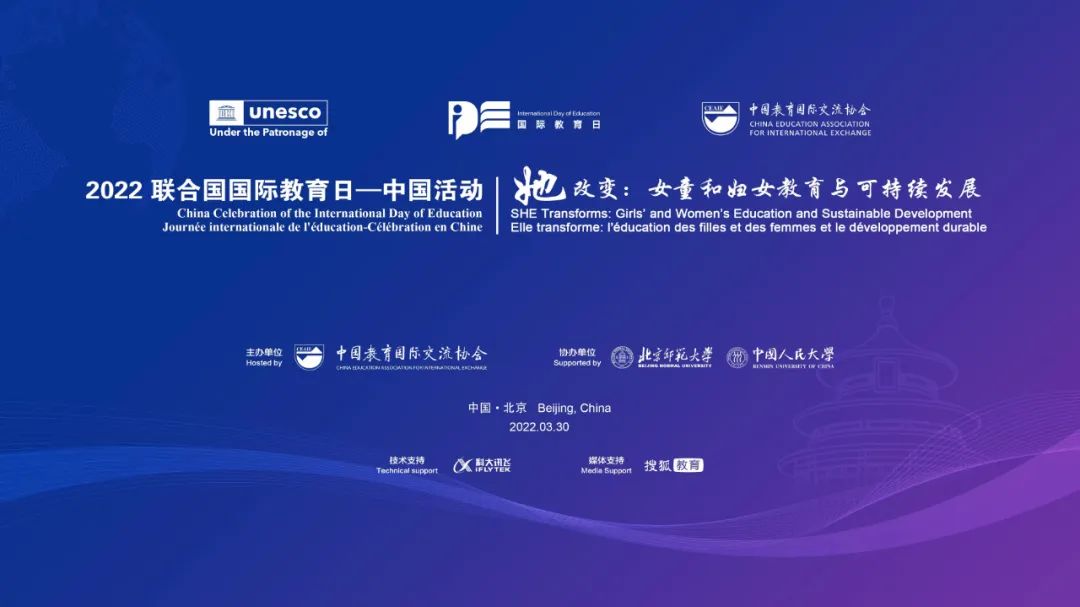 2022 China Celebration of IDE centered on the theme "SHE TRANSFORMS: Girls' and Women's Education and Sustainable Development", drawing attention to the importance of gender-responsive education to sustainable development. The event featured a panel with three sessions. In session one SHE EMPOWERS: Public Policy for Girls' and Women's Education and Sustainable Development, policymakers, educators, and relevant stakeholders introduced examples and best practices that recognized education as the pathway to a promising future for girls and the realization of sustainable development. The second session was dedicated to highlighting the role of cross-sector partnership in facilitating girls' and women's education under the theme SHE PARTICIPATES: Cross-Sectoral Synergy for Girls' and Women's Education. The third session SHE THRIVES: Stories of Changing invited a Chinese female sports champion, a scientist, teachers, and the alumni of Girl MOVE Academy, Mozambican Laureate of 2021 UNESCO Prize for Girls' and Women's Education to share their personal stories, reflecting on how education transformed their lives.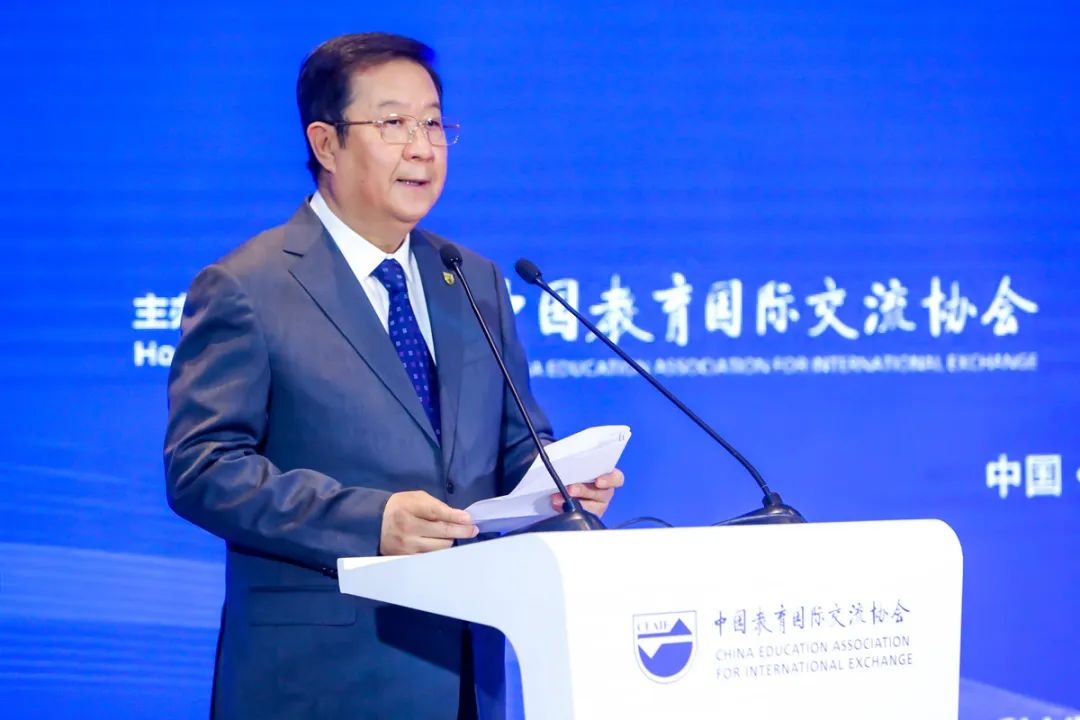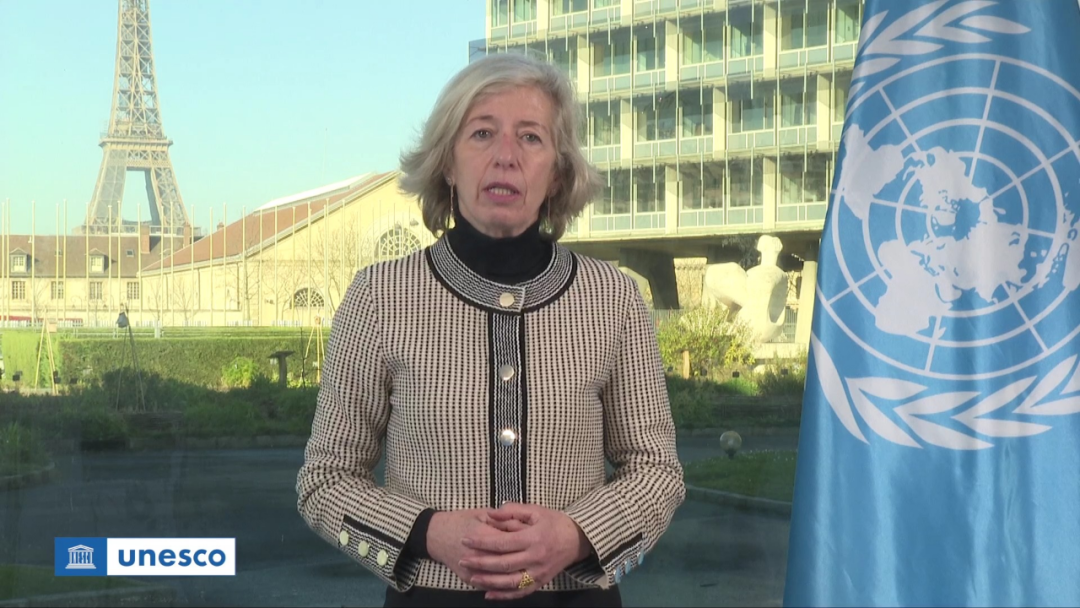 H.E. Ms. Stefania Giannini, UNESCO Assistant Director-General for Education and Dr. LIU Limin, Chair of the Board and President of CEAIE, gave the opening remarks, both calling for joint undertakings to protect girls' and women's right to education and to complete the transformation that placed education as the key public good for social development. H.E. Ms. Giannini stressed, "this is how we can transform through building broad alliances to put girls' and women's education at heart above human progress." Dr. LIU emphasized that female empowerment through education is both an imperative for individual growth and a catalyzer for the achievement of Sustainable Development Goal 4.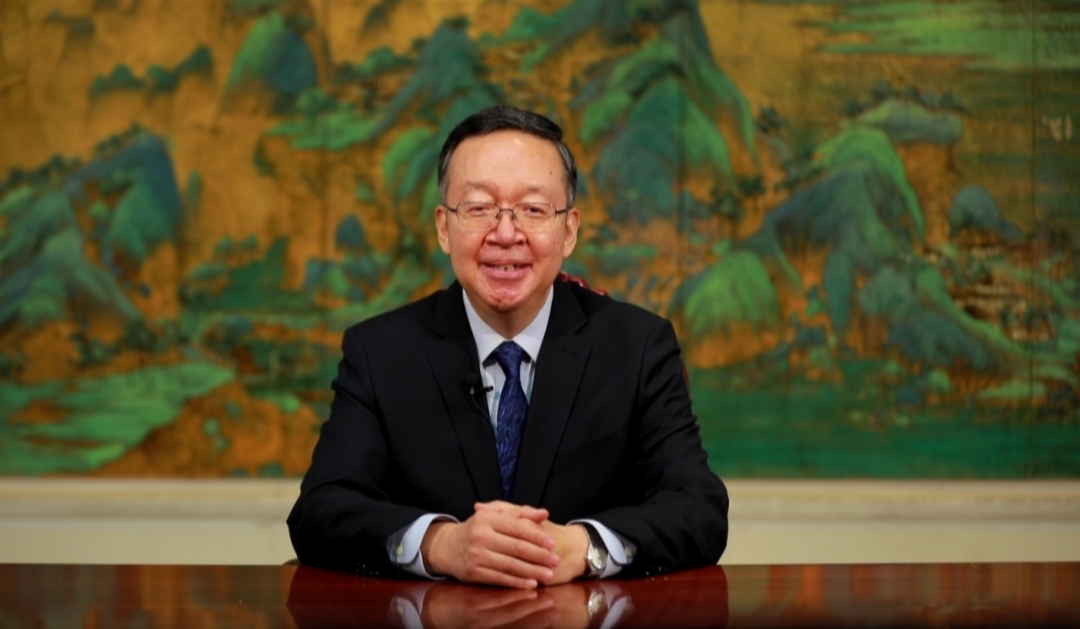 In his keynote speech at the event, H.E. Mr. TIAN Xuejun, Chinese Vice Minister of Education and the Chairperson of the Chinese National Commission for UNESCO, demonstrated the determination and commitments of the Chinese government to ensuring gender equality in education. He called for digital transformation to guarantee equal access to educational resources, the construction of an inclusive society buttressed by institutional supports, and the creation of an international environment for sustainable development empowered by international cooperation and cross-sector partnership.  

CEAIE, an NGO maintaining operational relations with UNESCO, organized the second China Celebration of the International Day of Education to celebrate educational achievements and progress in China and around the world, honor efforts and contribution that have been made to enhance equity and quality of education, and reiterate the critical role of education in peace and sustainable development. Looking forward for a more gender-responsive future, it is time to take actions to ensure women's participation and leadership to tackle the challenges which repeatedly underscored the urgency and necessity.