The 8th Meeting of China-Spain Forum
Publish Date: 2015-05-12 | Visits: 21039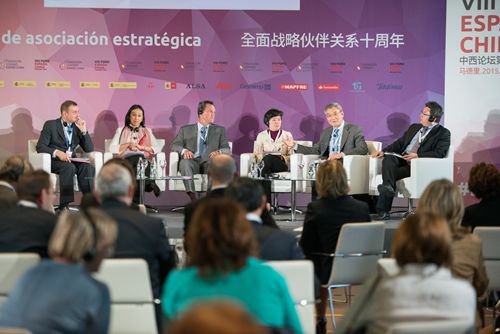 Invited by Spain-China Foundation, Madam Shen Xuesong, Deputy Secretary-General of CEAIE attended the 8th China-Spain Forum in Madrid on April 21st, 2015.
The theme of the Forum is Ten Years of China-Spain Comprehensive Strategic Partnership, with six roundtable meetings on urbanization, bilateral trade, culture, education, gender equality and languages. CEAIE co-sponsored two roundtables, namely Engineering Exchanges between Chinese and Spanish Universities—Building the Future, and Training for Trainers—Quality Assurance of Language Teaching.
Madam Shen Xuesong chaired the Language Teaching Roundtable, which discussed the successful experiences and practices of Chinese and Spanish language teaching. The speakers exchanged opinions and suggestions on how to better cooperate in language teaching between the two countries.
(by Department of International Cooperation)