TEQSA Executive Director visited CEAIE
Publish Date: 2014-10-09 | Visits: 10128
On September 24th, 2014, Secretary-General Mr. Sheng Jianxue met with Mr. Ian Kimber, Executive Director (Regulation and Review) of Australian Tertiary Education Quality and Standards Agency (TEQSA) in Beijing.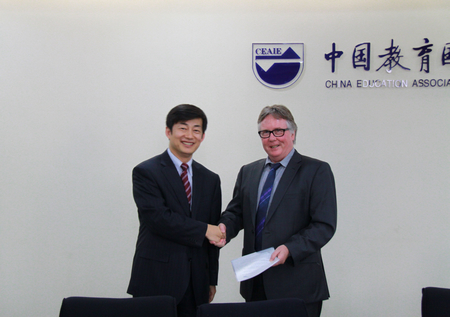 The two parties reached agreements on carrying out cooperation in quality assuring joint programs, information sharing and capacity building within the framework of a newly signed MoU, and exchanged ideas on further improving the quality of Chinese-Australian joint programs.
Mr. Christopher Lawson, First Secretary on Education and Research of the Australian Embassy, as well as staff of CEAIE Cross-border Education Quality Assurance Department, also attended the meeting.
The Tertiary Education Quality and Standards Agency (TEQSA) is Australia's independent national regulator and quality assurance agency. TEQSA is responsible for the registration of higher education providers, course accreditation and quality assessment as well as regulation of higher education using a standard-based quality framework.
(By Department of Cross-border Education Quality Assurance)