The 19th China Annual Conference for International Education and Expo was Held Successfully
Publish Date: 2018-11-13 | Visits: 3762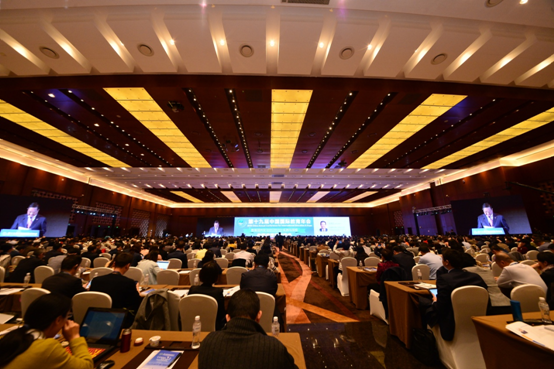 The 19th China Annual Conference for International Education and Expo (CACIE), organized by China Education Association for International Exchange (CEAIE), was held successfully in Beijing from October 18th to 21st, 2018.
.Under the theme Education Modernization-Practice and Exploration, it consisted of three main components: China International Forum on Education, China Education Expo and Education B2B.
At the Plenary Session in the morning of October 19th, Mr. CHEN Baosheng, China's Minister of Education sent a written address to the Conference. Ms. Marina A. Borovskaya, Deputy Minister of Science and Higher Education of the Russian Federation and Mr. John Halligan T.D., Minister of State for Training, Skills, Innovation, Research and Development of Ireland gave opening remarks. Dr. Liu Limin, President of CEAIE, gave a keynote speech on Chinese education development. Chinese hero astronaut Major General JING Haipeng delivered a keynote speech on the role of education in supporting the development of China's aerospace projects. The speeches won warm applauses, inspired participants' in-depth thinking and received very positive feedbacks. Panelists included Dr. Dong Qi, President of Beijing Normal University, Dr. Larisa Efremova, Vice-Rector of Russia's RUDN University, Mme. Marielza Oliveira, Director of UNESCO Beijing Office, Dr. Yu Lizhong, Chancellor of NYU Shanghai, Mme. Carma Elliot, Director China of British Council and Counsellor for Culture and Education of British Embassy Beijing, Dr. Esther D. Brimmer, Executive Director and CEO of NAFSA, and Mme. Denise Amyot, President and CEO of Colleges and Institutes Canada. They had an open and active discussion on education modernization from different perspectives.
There were 26 parallel sessions during the 19th CACIE as well. Symposiums on Education Internationalization and Student Mobility, China-Foreign Joint-Run Programs, Study in China, and Internationalization of Vocational Education were hot spots, attracting the majority of participants. A series of reports were released, such as Annual Report of Chinese-Foreign Joint Institutes and Programs, Internationalization of Higher Education in China 2018, and Study in China (English version). Besides, Seminar on Inclusive Education was held for the first time. It launched a new project Self-improvement China Fellowship. Accessible facilities and sign language interpreting were provided during the meeting.
As an integral part of the 19th CACIE, Education B2B this year had three sessions respectively for Chinese-Foreign Universities and Colleges, Chinese-Foreign Vocational Colleges and Chinese-French Universities and Colleges. It attracted more than 100 education institutions from 20 countries and regions to participate in. Chinese universities and colleges were very passionate about building direct relationships with their foreign counterparts through such a pragmatic face-to-face networking.
2018 China Education Expo, also a key component of the 19th CACIE, attracted 550 educational exhibitors from 36 countries and regions, including 17 national pavilions organized by foreign embassies in China, comprehensively showcasing their prominent education resources and advantages. The Expo has become the 'First Lesson of Study Abroad' annually for Chinese students and their parents. In Beijing Stop on October 20th and 21st, the total number of visitors reached 24,000. It is expected to have overall 40,000 visitors in the following stops in Shanghai, Guangzhou and Chengdu.