ASEAN-China Consortium for TVET Cooperation inaugurated in Guiyang, and released Guiyang Consensus
Publish Date: 2017-08-04 | Visits: 4412
On July 29th, 2017, the Inauguration Ceremony of ASEAN-China Consortium for TVET Cooperation & Forum on Integration of Industry and Education was successfully held in Guiyang, Guizhou Province. Dr. Liu Limin, President of China Education Association for International Exchange (CEAIE), Mr. Chen Mingming, Vice Governor of the People's Government of Guizhou Province, Dr. Gatot Hari Priowirjanto, Director of SEAMEO Secretariat, Mme. Yang Xiuping, Secretary-General of ASEAN-China Centre(ACC) and Mr. Mr. Zhao Lingshan, Deputy Director of Hong Kong, Macao and Taiwan Affairs Office of the Ministry of Education of China, addressed the opening ceremony and the inauguration ceremony of ASEAN-China Consortium for TVET Cooperation (ACCTC).CEAIE Secretary General Mr.Sheng Jianxue and Deputy Secretary General Mr. Zong Wa also attended the event.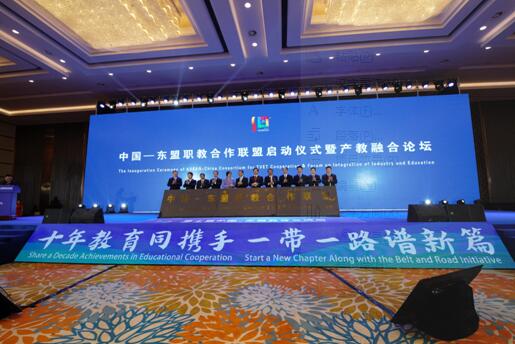 CEAIE President Liu Limin placed his great expectations on ASEAN-China Consortium for TVET Cooperation in his address. He encouraged that the Consortium shall follow the principle of openness, cooperation and shared development and mutual benefit, and play an important role as the platform for China-ASEAN TVET cooperation. He said, as the one of the initiating organizations, CEAIE will always give support to the growth of the consortium, and it's willing to work together with related organizations, to enhance TVET cooperation between China and ASEAN nations.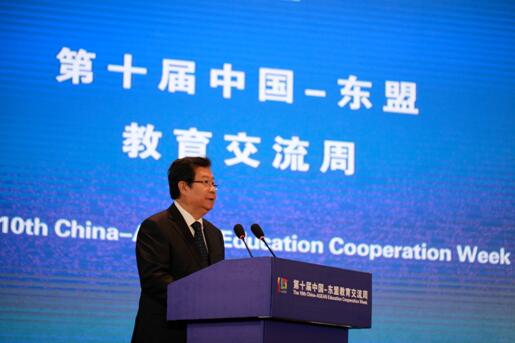 Mr. Chen Mingming, Dr. Gatot Hari Priowirjanto, Mme. Yang Xiuping and Mr. Zhao Lingshan all expressed in their opening speeches that both China and ASEAN highly value vocational education and this is the appropriate time to establish ASEAN-China Consortium for TVET Cooperation, as it marks greater alliance and deeper integration of vocational education institutions from both sides. The Consortium will provide China and ASEAN countries with a new platform to achieve common development in vocational education sector. They hope the Consortium will further facilitate the reform and innovation in the cultivation mode of skilled workforce, promote cooperation in areas such as vocational education qualification framework, establishing international standards, continually increasing the quality of vocational education in China and ASEAN countries.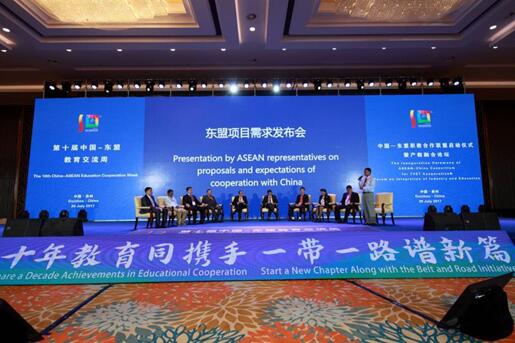 During the forum, delegates from China and ASEAN countries actively shared their opinions and practices of collaboration and expressed expectations on the consortium.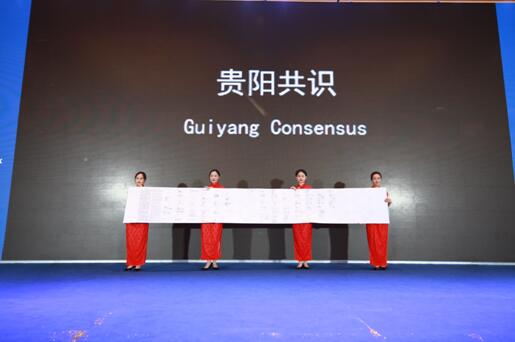 At the end of the event, Guiyang Consensus on ASEAN- China Consortium for TVET Cooperation, which was signed by participating institutions and organizations, was released, clarifying the Consortium's determination to make endeavors in the following six aspects:
1. To actively support and participate in various activities of vocational and technical education, such as to participate in the conferences and related activities of vocational education during China-ASEAN Education Exchange Week (Guiyang), China International Education Conference (Beijing), China-ASEAN Expo(Nanning); and to actively participate and promote the "Flagship Programme of Cooperation among Double 100 ASEAN-China TVET Colleges";
2. To convene annual general conference to strengthen the collaboration of ACCTC, to discuss about the development of vocational education and to recruit members;
3. To organize exchange visits among member organizations to increase dialogues on cooperation and exchanges; to facilitate the visits and exchanges of teachers among member organizations to improve the professional competence and teaching level; to facilitate the student exchanges and credit transfer among member organizations to enhance the students mobility and international students recruitment and cultivation;
4. To expedite the information exchange through building the on-line platform for the cooperation program's exhibition, recommendation and marketing;
5. To enhance the internal cooperation in prospective, practical and comparative studies on issues of common interests to provide consulting service for regional vocational education development;
6. To promote the education, information and experience sharing so as to raise the profile of technical skills and the mutual learning.
This conference was part of the 10th China-ASEAN Education Cooperation Week. It's co-hosted by ASEAN-China Centre, China Education Association for International Exchange (CEAIE), SEAMEO VOCTECH and Jiangsu Provincial Department of Education, co-organized by Nanjing Vocational Institute of Industry Technology, Nanjing Polytechnic Institute, Wenzhou Vocational & Technical College, Guizhou Vocational and Technical College of Water Resources and Hydropower, and supported by Zhejiang Yalong Educational Equipment Joint-Stock Co., Ltd. About 350 delegates from 99 institutions and organizations, including vocational colleges and polytechnics and enterprises from China and ASEAN countries, attended the event.
(by Department of TVET Programs and Professional Training)