CEAIE successfully bidding for 2019 Asian Science Camp on behalf of China
Publish Date: 2018-08-15 | Visits: 2426
On August 4th, the International Committee (IC) meeting of Asian Science Camp (ASC) 2018 was held in Manado, Indonesia. During the meeting, Ms. Feng Junying, Director of the Administrative Office of CEAIE, made bidding presentation on hosting 2019 ASC on behalf of China and answered questions from IC members. At the closing ceremony of ASC 2018 on August 8th, the Chairman of the International Committee of ASC announced that China will be the host country of ASC 2019 and handed over the ASC banner to Chinese delegation. A warm round of applause broke out after a China national promotional video. The ASC 2019 which will take place from July 28th to August 3rd, 2019 in Shantou, Guangdong, China.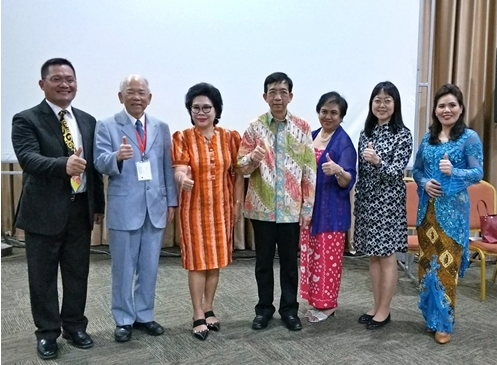 The idea of the Asian Science Camp (ASC) was co-proposed in 2005 on the 55th Annual meeting of Nobel Laureates and Students in Lindau, Germany, by Professor Masatoshi Koshiba (Emeritus Professor of University of Tokyo, 2002 Nobel Laureate in Physics) from Japan, and Professor Yuan Tseh Lee (1986 Nobel Laureate in Chemistry) from Chinese Taipei. The first ASC was held at Taipei in 2007, and was subsequently held at Bali in Indonesia (2008), Tsukuba in Japan (2009), Mumbai in India (2010), Daejeon in South Korea (2011), Jerusalem in Israel (2012), Tsukuba in Japan (2013), Singapore (2014), Bangkok in Thailand (2015), Bangalore in India (2016), Kampar in Malaysia (2017), and Manado in Indonesia (2018).
As the largest summer camp on science in Asia, ASC is held every year in different countries in Asia and attracts more than 300 students from around 30 countries and regions to exert their strength in physics, chemistry, mathematics and biology. All participants will be divided into small groups specialized in different disciplines according to their nationalities to participate in various kinds of activities, which include plenary sessions, student master dialogues, group discussions, and poster-making competition. The aim of ASC is to enlighten science talented youths through discussions and dialogues with Nobel Laureates and other world-distinguished scientists, and provide them with the opportunities to demonstrate their originality and advantage.