CEAIE and ASQA Sign a Memorandum of Understanding
Publish Date: 2015-07-30 | Visits: 13895
A memorandum of understanding was officially co-singed by China Education Association for International Exchange (CEAIE) and Australian Skills and Quality Authority (ASQA), during the 'Sino-Australian Vocational Educational Strategic Policy Dialogue' which was held in Beijing on the 14thJuly, 2015. Mr. Zong Wa, Deputy Secretary-General of CEAIE and Mr. Chris Robinson, Chief Commissioner of ASQA signed the Memorandum on behalf of each party.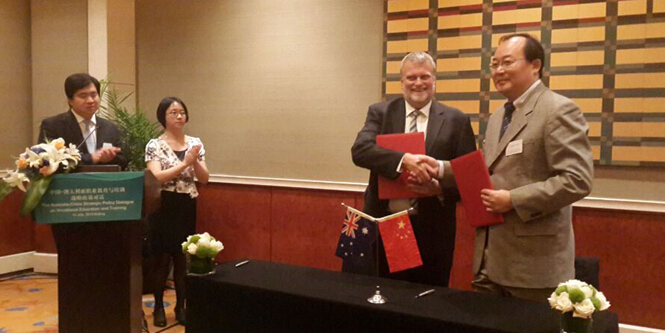 In the future, both parties will establish a collaborative relationship and share information and advice to enhance the understanding of regulation and quality assurance approaches, and joint efforts to enhance the quality of vocational education and training both in China and Australia. The two parties will also enhance cooperation in other areas including exploring the feasibility of cooperating in quality assurance and regulation of Chinese-Australian cooperative institutions or programs, hosting staff attachments to each other's offices for professional developmental purposes, sharing good practices and conducting joint research.
The signing of this memorandum initializes substantial collaboration between CEAIE and foreign authoritative quality agencies in vocational education and training. CEAIE has signed cooperation MOUs with agencies including Tertiary Education Quality and Standards Agency of Australia (TESQA), New England Association of Schools and Colleges of the United States (NEASC), Haute Commision d'Evaluation de la Recherche et de l'Enseignement Supérieur of France (HCERES), the Quality Assurance Agency for Higher Education of the United Kingdom (QAA).