Deputy Secretary-General Li Chunsheng Met with Delegation from Education Malaysia Global Services (EMGS)
Publish Date: 2019-08-06 | Visits: 4142
On July 25, 2019, Mr. Li Chunsheng, Deputy Secretary-General of CEAIE, met with Mr.Wafiy Abd Aziz, Deputy CEO and his colleague from Education Malaysia Global Services (EMGS). This meeting was to follow up the preliminary consensus reached between President Liu Limin and Mr. Maszlee Malik, Minister of Education of Malaysia during his visit to Malaysia earlier this month on Malaysia being Country of Honor for CACIE 2020, and to exchange in-depth views on the follow-up cooperation between the two sides.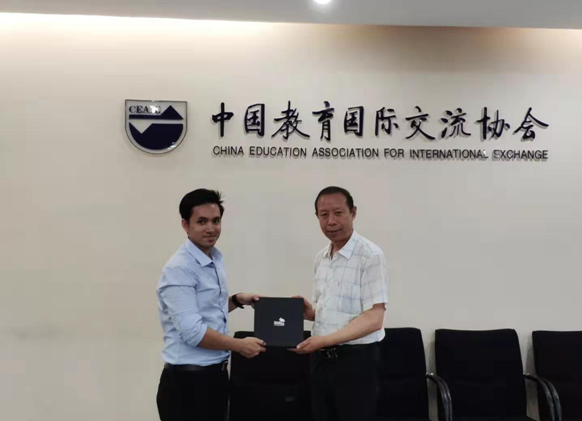 Li Chunsheng warmly welcomed the delegation on its first visit to CEAIE. He said that under the framework of Belt and Road Initiative, the exchanges and cooperation in the field of education between China and Malaysia have been increasingly close in recent years. On behalf of CEAIE, he welcomed Malaysia as being next year's Country of Honor of CACIE. He hoped that the two sides would take this opportunity to further expand the scope of cooperation, focus on strengthening the exchanges and cooperation in the field of vocational education, and continue to make positive contributions to the educational exchanges and cooperation between the two countries.
Mr. Aziz thanked us for the warm hospitality. He said that they attached great importance to the cooperation with CEAIE. Under the guidance of the Ministry of Education of Malaysia, they will spare no efforts to make next year's Country of Honor a big success through fully demonstrating to Chinese educational colleagues and students their diversified and internationalized high-quality education so as to attract more Chinese students to study in Malaysia. At the same time, he hoped to further strengthen communication and exchanges with CEAIE in the near future, enhance pragmatic collaboration between the two sides especially in terms of scientific research cooperation, student exchanges, vocational education and training.