President Liu Limin Encourages More Exchange at CHEPD Annual Meeting
Publish Date: 2017-06-20 | Visits: 5571
To further materialize the Outline of the national program for medium and long term educational reform and development (2010-2020) and The Opinions on Enhancing Education Opening up in the New Era, consolidate the achievement of Sino-US People-to-People Exchange, and to construct the Sino-American Cooperation on Higher Education and Professional Development (CHEPD) a better Sino-US two way exchange platform and meaningful sustainable program, China Education Association for International Exchange (CEAIE), China Center for International Educational Exchange (CCIEE) and American Association of State Colleges and Universities jointly held the 2017 Annual Meeting and 14th Graduation Ceremony in Dalian, Liaoning Province from 13th to 14th of June, 2017. President Liu encouraged more exchange among the Chinese and US institutions while giving keynote speech at the President Forum.
During the meeting, President Liu Limin also met with the Vice President of AASCU George L. Mehaffy and American and Chinese presidents. Wang Qingdong, the Deputy Director General of the Department of Education of Liaoning, Du Benwei, the Party Secretary of Dongbei University of Finance and Economics, Shen Xuesong, the Deputy Secretary-general of CEAIE, Yin Kai, the Director of CCIEE took part in the meeting.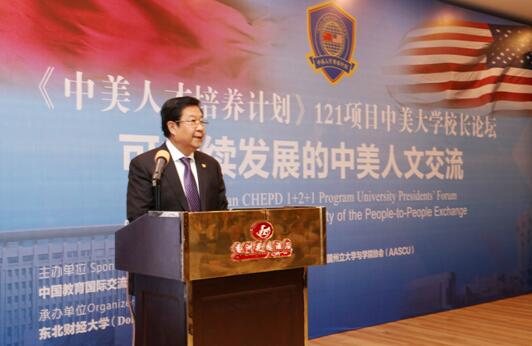 President Liu Limin giving keynote speech at the President Forum.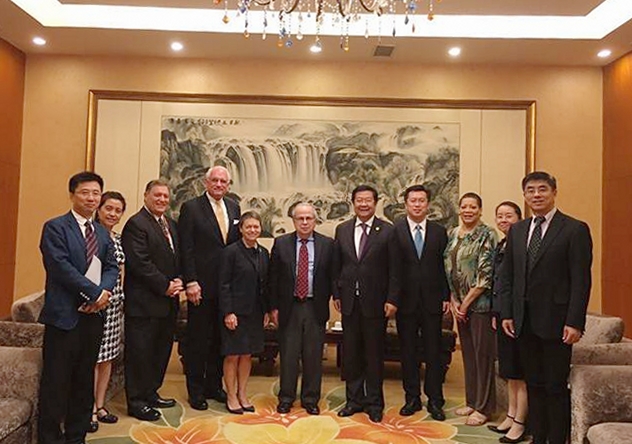 President Liu Limin meeting with AASCU L. Mehaffy during the Annual
Meeting