The Opening Reception of China Education Expo 2017 Held Successfully in Beijing
Publish Date: 2017-10-26 | Visits: 2424
The Opening Reception of China Education Expo 2017 was held successfully in Beijing on October 19. Mr. Liu Limin, President of China Education Association for International Exchange (CEAIE), Mr. John McCallum, Ambassador of Canada to the People's Republic of China, Ms. Patricia Rodriguez Holkemeyer, Ambassador of Costa Rica to the People's republic of China, Mr. Igor Ganshin, Director of the Department of International Affairs of the Ministry of Education and Science of the Russian Federation and nearly 500 representatives from foreign embassies and consulates, governmental organizations and authoritative educational institutions from China and abroad attended the reception. Mr. Sheng Jianxue, Secretary General of CEAIE, chaired the event.
Mr. Liu Limin, President of CEAIE, delivered the opening speech. He pointed out that China attached great importance to the field of study abroad. Being an important channel of cultivating high-level talents, study abroad is also a key feature of an open and inclusive country and an important way to enhance people to people exchange and promote a country's soft power. He believed that the principle, Supporting Study Abroad, Encouraging Returning Back Home, Free Mobility and Best Use of Talents, re-iterated by President Xi Jinping in 2013 has set a clear direction for the development of study abroad. He said that CEAIE is the first national organization that engaged in China-foreign non-governmental educational exchanges after China's opening up to the outside world. Through making good use of domestic and international resources, bridging the specific needs of all parties and carrying out practical collaborations, CEAIE has built an extensive platform for international educational exchange. He speaks highly of the achievements made by China Education Expo (CEE), one of the most important platform built by CEAIE. With consistent efforts of 17 years, CEE has become the biggest, most well-organized and most attractive expo in China. It is recognized as the key trend indicator in the Chinese international education market. He stressed that CEAIE is ready to work with all the international educators to improve all-in-one service system for study abroad, enhance the quality of education and deepen the cooperative relationship in the field of education.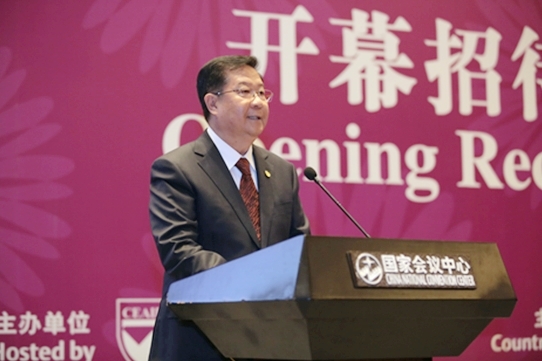 Mr. John McCallum said that coinciding with its 150th anniversary, it is an honor for Canada to be the Country of Honor for CEE 2017. He underlined that this honor was jointly announced by Chinese Premier Li Keqiang and Canadian Prime Minister Justin Trudeau in the joint statement during Premier Li's official visit to Canada last year which attached great importance to the bilateral educational exchanges between Chinese and Canadian governments. He also pointed out that whether it is in trade or investment, tourism or business visits, the two-way exchanges between Canada and China are hitting historical record numbers. He highlighted that over 132,000 Chinese Students were studying in Canada by the end of 2016. He believed that as these students become the future leaders, they will contribute to nurturing and enhancing the country-to-country relationship for years to come. At last, he mentioned that Canada is represented by its largest education delegation to China in history. He looked forward to sharing world-class educational resources and achievements offered by Canadian institutions with all the Chinese students, exploring more paths to the bilateral educational exchanges and promoting the development of education cooperation between China and Canada.
The Country of Honor of CACIE 2018 will be Russia. Mr. Igor Ganshin said that it is an honor for Russia to be the next year's country of honor. He highly acknowledged the long-term educational cooperation and exchanges between China and Russia and expected to further promote the bilateral educational exchanges in the future.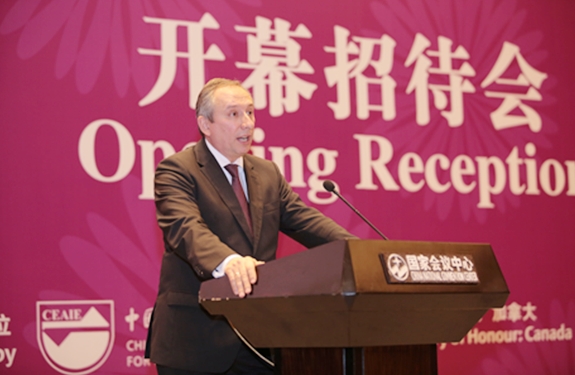 Mr. Liu Limin conferred the Country of Honor Plate to Mr. John McCallum, the Canadian ambassador followed by the Best Partner Award 2017 to the Sasakawa Japan-China Friendship Fund, Asia Society, ASEAN-China Center, New England Association of Schools & Colleges, AFS Thailand, Project Trust, Embassy of Canada, China Pocy Group (Beijing Caofeidian International Vocational City) and Beijing Royal School. In addition, Mr. Liu Limin expressed special thanks to China Pocy Group and Beijing Royal School, two gold medal sponsors of CACIE 2017 for their long-term support to CEAIE.
Finally, the Canadian artist, Ember Swift and her band brought a fantastic multicultural performance to all the audiences.
(By the Department of Program Development and Marketing)