President Dr. LIU Limin meets Board Chair of AFS Thailand
Publish Date: 2017-10-25 | Visits: 2463
On Oct. 20th, 2017, President Dr. LIU Limin met with K. Sanan Angubolkul, Board Chair of AFS Thailand, and other delegates from Thailand.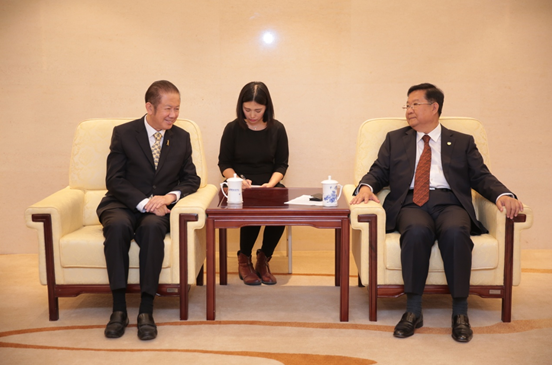 Dr. LIU Limin welcomed the delegation and expressed his appreciation for the cooperation between CEAIE and AFS Thailand. For the past 15 years, CEAIE has hosted almost 1000 Thai students (sent by AFS Thailand) in China. They were living with Chinese people, studying with Chinese students, learning Chinese and exploring Chinese culture. Meanwhile, CEAIE sent about 100 volunteers to Thailand to teach Chinese. In the framework of One Belt One Road, Dr. LIU Limin said, CEAIE would like to expand cooperation areas and people-to-people exchange, to further contribute to the friendly exchange between China and Thailand.
AFS Thailand established in 1963 and its contribution to the Thai society has been highly recognized by Princess Sirindhorn. In the 18th China Education Expo, AFS Thailand was given the Best Partner of CEAIE by Dr. LIU Limin.
Volunteer Committee for Intercultural Education (AFS China)of CEAIE