The 4th Meeting of China-CEECs Higher Education Institutions Consortium Held
Publish Date: 2017-10-17 | Visits: 1203
The 4th Meeting of China-CEECs Higher Education Institutions Consortium (CCHEIC) was successfully held in University of Novi Sad, Serbia on September 22nd, 2017. Mr. Du Zhanyuan, Chinese Vice Minister of Education, Mr. Mladen Šarčević, Serbian Minister of Education, Science and Technological Development attended the opening ceremony and delivered speeches. There were 46 university leaders and representatives from 28 Chinese higher education institutions and more than 90 rectors from 48 universities in 16 CEEC countries, who participated in the meeting. Mr. Sheng Jianxue, Secretary General of CEAIE, chaired the opening ceremony.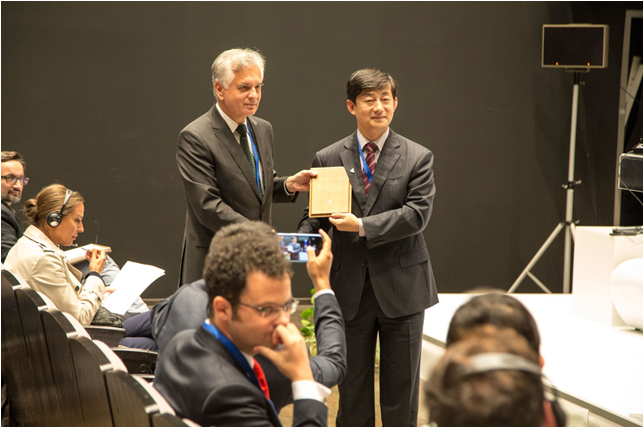 One-day discussion mainly focused on the following three topics, Collaboration & Innovation to Cultivate Talents with Applied Skills for B&R Construction, 16+1 Consortium Universities' Joint Capacity Building in Curriculum Design, Science and Research, Language Teaching, and Cultural Exchange, Mobility, Resources and Integration. Representatives from Beijing Jiaotong University, Xi'an Jiaotong University, Shenzhen University and other Chinese higher institutions shared their experiences in talent cultivation, scientific research and cooperation platform building, etc., and expressed their expectations to strengthen connections with CEEC universities and to promote exchanges between young people. Rectors from University of Belgrade (Serbia), University Politehnica of Bucharest (Romania), University of Zagreb (Croatia) and Jagiellonian University in Krakow (Poland) participated in the discussion.
At the meeting, the CCHEIC Charter, Novi Sad Platform and CCHEIC logo were officially adopted. University of Novi Sad, Serbia was recommended to be the second rotating CCHEIC Secretariat on the CEEC side from 2017 to 2019. Besides, 16 Chinese universities and colleges and 6 universities from CEEC countries were admitted as new CCHEIC member institutions.
During this trip, the delegation, which was organized by CEAIE, also paid visit to University of Belgrade, Ministry of Human Capacities of Hungary, University of Szeged, Charles University and Technical University of Liberec, to deepen mutual understanding between China and CEEC countries and to broaden the channels for student and teacher mobility, joint research and other people-to-people exchange.
(by Department of International Cooperation)